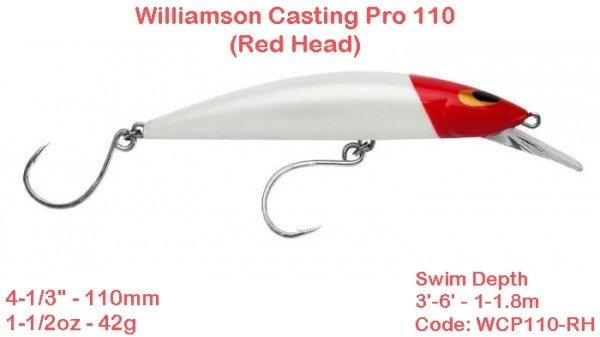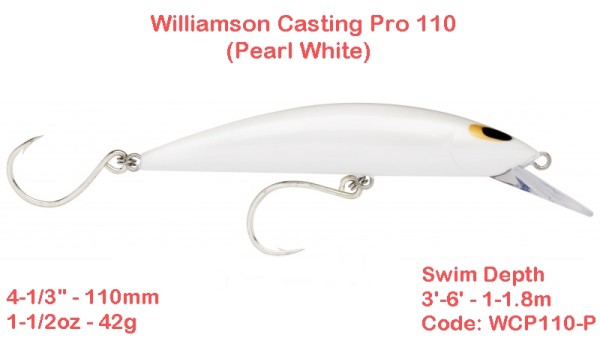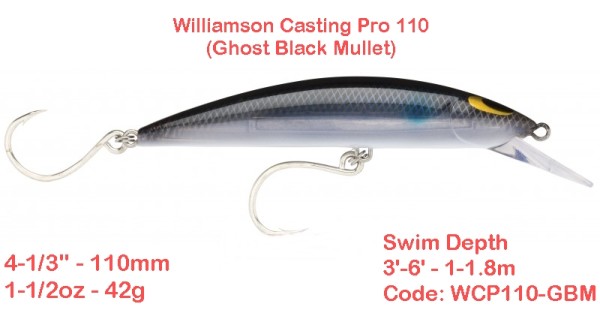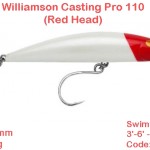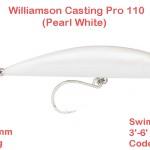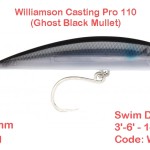 Williamson Casting Pro Fishing Lure – Long Cast Minnow
Description
Williamson Casting Pro Fishing Lure – Long Cast Minnow
The new Williamson Casting Pro fishing lures were designed by Williamson's special Japanese lure designers resulting in a heavy-bodied, long casting diver lure. The designers strove to create a new long cast lure that would maximize your fishing area.  
Williamson Casting pro lures allows for quick accurate long casts for Bonito, Tailor, Salmon, Kingfish, Small Tuna, and other sub surface feeding species whether you be casting out from the rocks or from a boat.
This long casting minnow lure moves in a tight wobble that is occasionally erratic and darting to attract the attention of all nearby fish.   Available in a wide selection of colors and textures to pick from so you're certain to find the bait fish lure you need to go after your favorite fish.
Specification :
Size : 4 – 1/3″ – 110 mm
Weight : 1 – 1/2 oz – 42 g
Depth : 3′ – 6′ / 1 – 1.8 m
Code : WCP110#RH , WCP110#P & WCP110#GBM
Features:
·         Model: Williamson Casting Pro 110
·         Array of colors to choose from.
·         Tight erratic wobble and dart
·         Highly accurate lip casting even in windy conditions
·         Functions well for a variety of retrieval speeds whether slow, medium pace or high speed retrieve
·         Heavy duty stainless steel through-line
·         VMC 7266 TI inline single hooks
Benefits:
·    
     Long Casting – making it great for throwing off the rocks or from the boat. With highly accurate lip casting you are destined to hit this lure out a decent way on the first cast.  The weight makes it cast well even in windy conditions.
·         Casting pro's action makes it a sure winner.  Depending on your retrieval speeds the lure will function differently so you're guaranteed to attract fish no matter what your fishing style is that day.  The faster you retrieve the tighter the wobble.  Slow it down a little and the lure will move completely differently.  This fishing lure is fun and exciting to test out.  Spend a little bit of time practicing the different speeds so you can see for yourself what a difference it makes.
·         Heavy duty stainless steel through line makes Williamson Casting Pro lures a design that is built to last and hold up even during long fights.  No one enjoys when their lures break.  Williamson Casting Pro lures are built to last.