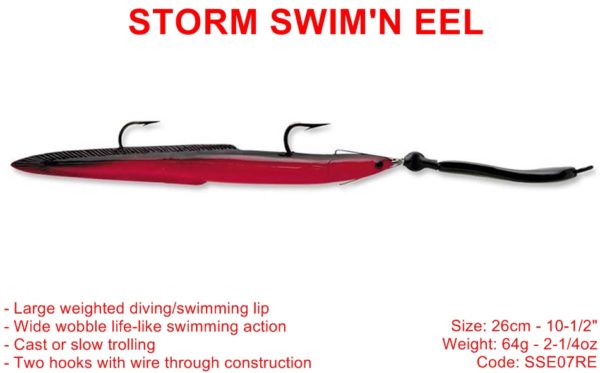 Storm Swim'n Eel
The Storm Swim 'N Eel lure features a large weighted diving/swimming lip that gives off a wide wobble action and gets the lure down below the surface where it needs to be. Two back hooks and through wire construction make the Swim 'N Eel tough enough for big fighters. 2 eel lures per pack.
Description
Large weighted diving/swimming lip
Wide wobble life-like swimming action
Cast or slow trolling
Two hooks with wire through construction
Trolled or cast mainly for saltwater fish like stripers and blues but is just as effective for other species. With a large weighted swimming lip this bait gives off a wide wobble and a life-like swimming action. Two back hooks with through wire construction makes this bait extra tough for big fish.